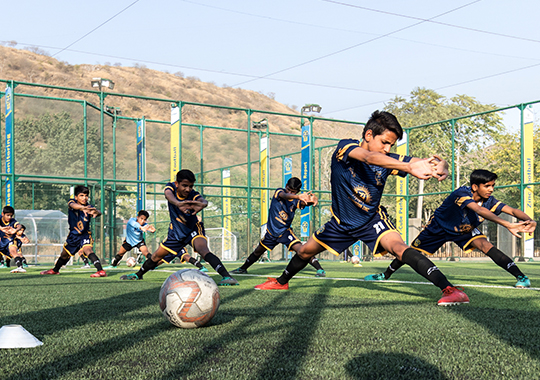 Zinc Football Qualifies for Subroto Cup 2019
Representing DAV HZL School, Zawar Mines, Zinc Football Academy has created history with their first major trophy of the year as the young team claimed the Under-17 Subroto Cup Qualifiers held at DPS Jhunjhunu. Courtesy of their invincible record in the tournament which was played among 13 best schools in the state, the team from Udaipur has grabbed the honours to represent Rajasthan state in the 2019-20 Subroto Cup Nationals.
Zinc Football Academy footballers defeated host DPS 3-0 in the grand finale to come out as the only unbeaten side of the tournament. Midfielder Adnan opened the scoresheet with a clean header as early as in the 6th minute from an inch-perfect corner by Himanshu. Aman Khan and Subhash Damor added one each in the second half to complete a memorable outing and lift the silverware in a tournament in which they have participated for the very first time.
Placed in Group C, Zinc Football Academy boys, all of whom are under the age of 15 years, defeated CH MRM Senior Public School from Sri Ganganagar 6-0 in the first match, followed by a hard-fought 3-1 win against Prince Academy Sikar. The final group match saw Zinc Football Academy comfortably winning 3-0 over Cambridge Court High School from Jaipur to seize the top spot in the group and march onto the semi-finals.