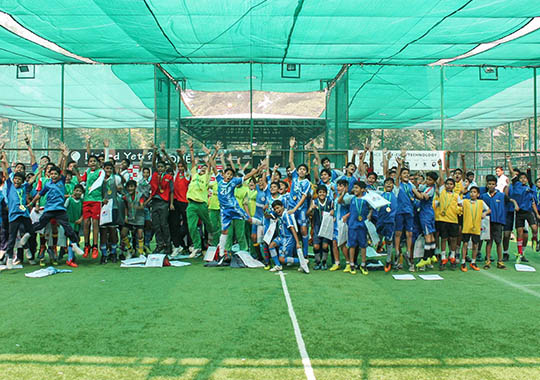 HARPER COLLINS CHILDREN'S DAY 2016
Children are dreamers, and dreams are the most effective weapons that they posses for taking on the hurdles of tomorrow's realities. A child's dream can be channeled through a systematic learning process to ensure that their future, as well as the society's future, is brighter than ever. What defines underprivileged children and a majority of lower-middle income children in India, today, is the lack of facilitation of their dreams and their abilities.
This is where football and its development fit in. Through the sport, life lessons such as discipline, hard work, team spirit, and so on, can be imparted in children. From a sporting perspective, it allows more scope for development of the overall Indian Football network. The Football Link strives to replicate this blueprint.
On Friday, the 11th of November 2016, the F-Cube technology was introduced to a host of schools that lack the resources to provide even the basic football facilities. An event was organized by TheFootballLink and Harper Collins India as a precursor to the Children's Day to mark the unveiling of the F-Cube to the children.
The event marked a crucial juncture in Indian sports, generally, and in particular, the ongoing football revolution in the country. A coaching and fitness training session was carried out for the children along with a detailed assessment of individuals using the F-Cube.
All the children were awarded for their participation and amazing response throughout the day, and excellent performers were also commended.
The introduction of the F-Cube in schools promises to enhance the development of football right at the grassroots level which can go a long way in helping kids understand the sport better and ultimately excel in it from a global perspective.