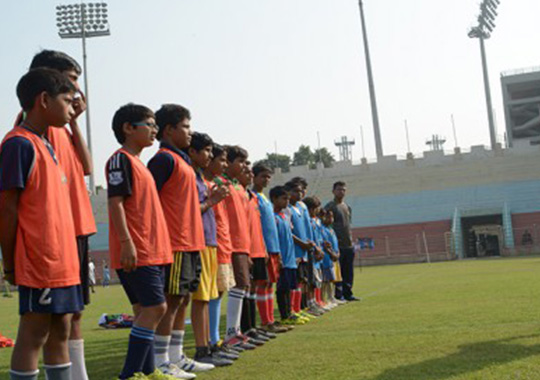 PHASES OF THE CHILD & YOUTH DEVELOPMENT PROGRAM
PHASE I – EDUCATE
Organize presentations in slums, government schools, private schools & NGOs to educate children with the Delhi Police on the benefits of participating in a sport and ways in which the Delhi Police can protect and support these children in all aspects of their lives.
Mentor Training Programmes:
Periodic training camps for the coaches and mentors with the latest child development techniques and philosophies
PHASE II – LINK
Through our philosophy 'TRUE TO THE PLAYER, TRUE TO THE GAME' the CYDP initiative is a collective effort by all the stakeholders in the society to build a better future for upcoming generations.
Stakeholders:
Connect CSR initiatives, Grants and Donors to the various projects to augment the Delhi Police Fund and create a sustainable and effective programme.
Connect Between the Police and Society:
Trust in the law enforcement agency is the most essential element for the police to be able to control, monitor and reduce crime in the society. By providing a platform to the police to reach out to the citizens, we aim to bridge the crucial gap.
PHASE III – PROVIDE
An exciting and progressive environment for children where they learn important life skills while developing moral and social values through continuous interactions with coaches and mentors from the police and society.
Police Mentorship Program
Fun and Sports
Food and Clothing
Coaching and Tournaments
Medical Camps
Vocational Training
Talent Development
PHASE IV – MONITOR
Constant monitoring by independent organizations to ensure the program's transparency, accountability, quality and effectiveness of the program
Mental, physical & social development of participants
Child & Youth welfare
Funds usage
Effectiveness of the programme
Connect between police and society
PHASE V – EVALUATE
- Increase in reporting of crimes & abuse against children in neighborhoods where this program is active.
- Decrease in number of child abuse cases in a target area over a period of one year.
- Analysis of behavioral attributes of participating children pertaining to leadership roles, teamwork & discipline.
- Increase in popularity and connect of the Delhi Police with participating children and their parents in a 3 month period.
- Decrease in drug abuse & gun violence cases amongst children & youth in neighborhoods where the program is active.