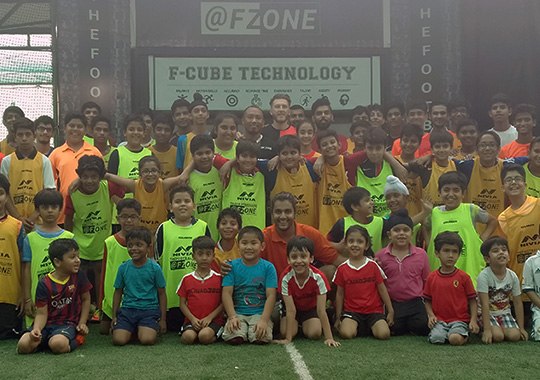 SESSION WITH DSK SHIVAJIANS - LIVERPOOL FC
Michael William Rice, a UEFA-A License Coach hailing from the northern port city of England, Liverpool is the Head Coach of the DSK Shivajians Academy Under-18 I-League team. Mr. Rice conducted specialized training sessions for Under-7, Under-10, Under-13 and Under-15 participants of the Squad360 Academy and TheFootballLink Summer Camp 2017. Mr. Rice also spoke to all the students about the Liverpool way and what it takes to become a disciplined and successful professional Footballer during an engaging interactive session.
Mr. Rice also played on the F-Cube technology and was ecstatic to see growth in Grassroots Football through Technological interventions stating it as revolutionary and will help develop Football at the grassroots and become a massive aid to Coaches everywhere.
Highlights
Educating the children of how to play the Liverpool way
Training curriculum designed by the Liverpool FC International Academy
Interaction with the children on achieving success as a footballer
Coach the Coaches Session with the Squad360 Academy Coaches on enhancing player performance, both physically and mentally