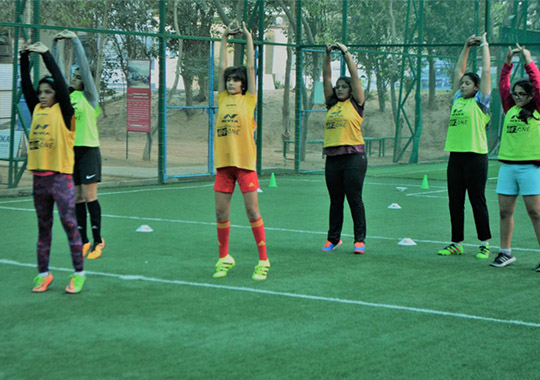 SQUAD360 ACADEMY- GIRLS BATCH
The possibilities to one's potential are limitless. Let the wings grow and then see the magic unfold. The Football Link has taken this massive initiative to start a Girls exclusive Football batch to create awareness and promote the sport among the young Delhi Eves. TFL's prior aim is to channel Girls Football to new heights with the help of a state of the art training facility and Football Academy in Vasant Kunj.
The Football Link's Academy, SQUAD360, already boasted about a co-ed Football Academy for age groups such as under- 7's, 13's and 18's. TFL recently held a camp for the budding talents at FZone and displayed a positive feedback from the players as well as the parents.
Women's Football in India has shown a very snail paced progression as compared to the other dominant gender. With a need to spread and support the football initiative, TFL urges everyone to contribute their bit to promote the worthy cause.
Next time anyone says "You kick like a girl!!", let's revamp the impression to be a compliment.