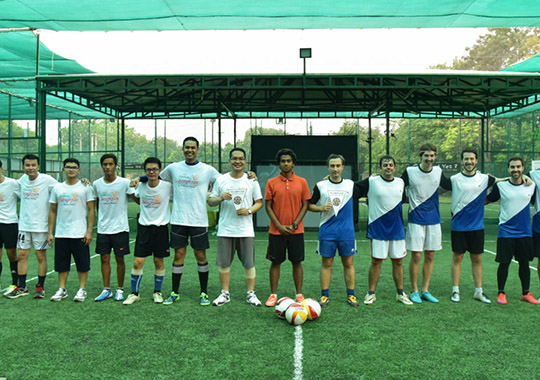 TFL UNITY CUP 2016
With a vision to bring together football enthusiasts of various nationalities in Delhi to celebrate the beautiful game of football and bind the human spirit across boundaries and frontiers, TheFootballLink Sport Pvt. Ltd. hosted the Unity Cup at the FZone Arena on the 26th of June, 2016. Teams from the Iraqi, Spanish and Thai Embassies participated in the football tournament for embassies which served as a fundraiser for TheFootballLink Scholarship Fund.
The 4v4 football tournament was organized in collaboration with Decathlon Sohna Road, Gurgaon, who were also the Unity Cup's official equipment partner. The first-of-its-kind event promised to be a great one, especially in TFL Scholarship Fund's quest to support underprivileged children.
The first match of the event saw Thailand take on Spain with much fanfare from the crowd. The European nation's representatives proved to be too strong for their Asian counterparts as they won without breaking much sweat.
India, represented by the TFL team took on the Iraqi Embassy team in the following match. Although Iraq managed to put up a good fight, the TFL-India team nicked the match by a convincing margin.
The two best teams on the day, The Spanish Embassy team and the TFL-India team clashed in the final match.
An enthralling contest unfolded as both teams matched each other – pass for pass, possession for possession and shot for shot.
The only area where the two teams were in contrast was goals. The Spanish Embassy were clinical where it mattered most as they convincingly overcame a TFL-India team fight back and came out on top.
The Spanish Embassy took home the Unity Trophy at the award ceremony, as the stand-out players were also commended with individual trophies.
The fun didn't end there as a screening of the ongoing Euro Cup match between France and the Republic of Ireland was held as a post-event. The event, on the whole, lived up to its promise of being a success for both TFL Scholarship Fund and those who were present.